Mason Bees And Veggies In January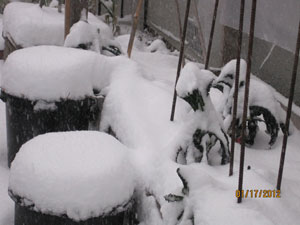 With our gardens under a beautiful white blanket at the moment, it's a pleasure to think ahead of warmer months outside.  While the nursery is now closed until February, we have been busy planning, ordering, and generally looking forward to a wonderful new season ahead.
Are you poring over seed catalogues? That always feels to me like the first step in the wonderful cycle of life that is gardening, and one of the best parts of winter.  With seeds coming in to the nursery in early February, it's not too early to be drawing up plans for what you want to grow, and where to plant, being careful to rotate crops when you can.
Are you enjoying winter harvests?  The leeks that we just finished were plant starts in April, and the delicious kale and chard that we are eating now were mere seeds in August.  Here they are now in the great Canadian refrigerator!
This is my first time growing Purple Sprouting Broccoli, but I'm expecting a bountiful crop of nutritious, crunchy side shoots that will keep on giving……and giving…….and apparently giving until we've had more than our fill!
Even under the snow, the plants are impressive.
Have you washed your Mason Bee cocoons?  This morning, mid-January, I washed my cocoons. Previous article.
While my earlier blogs describe the method I use, Brian has a New and Improved Method, which he'll be writing about in a coming post. As long as you get the cocoons washed, dried and put into plastic bags in the fridge before the weather warms up, you'll be fine.
I have some good news and some bad news on the bee front.  The good news is that my bees were very active last year in spite of the poor spring.  The condo obviously had been filled very well, but as you can see in the pictures, whole chambers were plundered and the cocoons themselves eaten.  I discovered THREE wasps, fat and still sleepy but alive, sheltered inside, where there had once been happily maturing mason bees.
The chambers with only yellow dots are filled with mites, which devoured the cocoons.
It's a cruel world out there if you are a Mason Bee, all the more reason why we must encourage these little creatures who do so much for us. Their life cycle is entwined with our own; let's help them thrive as we embark on another year in our own journey with the garden.
We all wish you Happy Growing for another year and may 2012 bring you the best of health and happiness.
https://russellnursery.com/wp-content/uploads/2012/01/veggies-in-winter.jpg
225
300
Kathryn Verlinden
https://russellnursery.com/wp-content/uploads/2022/04/russell-30th.svg
Kathryn Verlinden
2012-01-20 13:52:44
2021-04-13 19:32:33
Mason Bees And Veggies In January