Amending Your Soil For Winter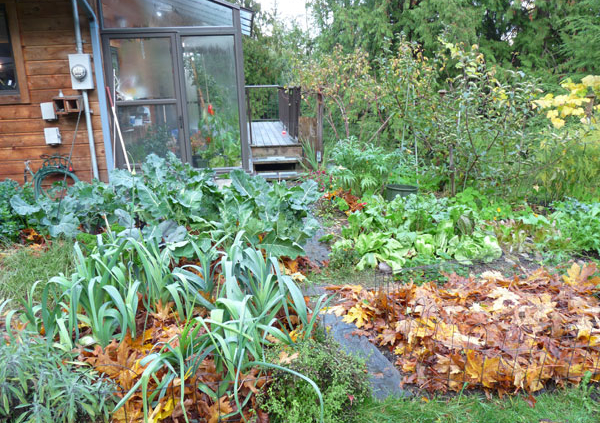 We are all used to a blanket making us cozy and warm in the cold days of winter, but feeding us too? Well that's what winter mulch can do for your garden; nourish the soil and protect it from rain and freezing temperatures.
It may seem mysterious, but really all you need to do is provide lots of organic matter to feed the millions of microorganisms that will convert nutrients to usable food for the plants.  These little organisms will slow down for the winter, but by putting the mulch down in the fall, it's already broken down by spring when the warmth wakes the little critters up and they can get to work right away. Usually we also have to correct the pH here, as our winter rains tend to make the soil more acid. With the exception of strawberries and potatoes, most veggies need a higher pH so the addition of dolomite lime in the fall is a good thing to do.  Of course the ericaceous plants (acid-loving) such as rhododendrons, camellias, heathers, pieris, and conifers are happier without the lime.
The easiest, cheapest, and most effective form of organic amendment is right there in your yard already; falling leaves need only be raked and layered in the beds; ideally, mow them on the lawn and dump onto the garden beds, both ornamental and veggie, but even just dumping them on in a 6" layer is fine, as long as they are nice and fluffy and not likely to pack down. Oak leaves are especially wonderful for the acid-lovers.  The practice in our culture of placing autumn leaves in a pile or plastic bag for the municipality to gather and sell back to us as compost is bizarre. Do you ever see forests needing fertilizing? Of course not, the leaves fall, they decompose, and return their nutrients to the soil, which feeds the trees and the cycle is repeated.  While you're at it with the leaves, bag some up and save for spring and summer, when the "brown" part of composting is in short supply. You'll be happy to have these crispy crunchies to add to your mostly-green compost, and the microorganisms in your soil will thank you.
By leaving the leaves in your garden beds, not only do you feed the soil and suppress weeds, you provide a haven for beneficial insects.  The lovely bumble bee nests in fallen leaf litter in garden beds.  One of the many pleasures of spring is seeing the groggy bumbles stumbling around when first awakening from their winter naps, going from crocus and heather to sarcococca, feasting on nectar and pollen
Here is a photo of Linda Gilkeson's veggie garden, freshly topped with autumn leaves. As the queen of vegetable gardening on the coast, Linda offers her wisdom and practical experience in her book Backyard Bounty.  I really don't think there is a better Christmas gift for anyone on your list who wants to grow food; talk about a gift that will keep on giving!
Another form of organic wealth I like to feed my garden is seaweed. As I live near several beaches, I am able to visit the local shoreline after a big November storm, and gather the seaweed that has washed up on the beach, detached from any living ocean plants. I don't bother to rinse the seaweed as we have a lot of rain, nor do I even chop it up, I just pile it onto the garden beds to decompose, it seems to melt right into the soil, providing many important benefits; increased hardiness, resistance to disease, and better fruit production for many favourite crops. (Local biologists recommend rinsing the seaweed at the beach to make sure you are leaving all living creatures behind. If you are using a lot of seaweed it is probably worth freshwater rinsing, the salt in the seaweed will deter slugs but also the beneficial earthworms .) You will never find a more valuable resource for your garden! In the absence of a nearby beach, or if you aren't comfortable hauling buckets and buckets of slimy kelp in your car, we do sell bags of kelp meal, as well as a powdered form of seaweed that can be diluted and makes an almost endless supply of seaweed elixir to foliar feed or root drench.
If you've been following my blogs at all, you will know that I'm a strong believer in the wonders of straw as mulch too. Straw improves the tilth of the soil, and as it breaks down, it provides carbon for the nitrogen-carbon ratio that we seek for our composts.  Its texture keeps the soil open, allowing the rains to drain through but not pummel the soil throughout winter.  Make sure it's straw that you buy, not hay which is inclined to be full of weed seeds.
The ultimate treat for gardens is of course compost, but the recommendation is to leave the compost covered and in the bin for winter, staying relatively dry and warm.  Save it for spring mulching, preserving the nutrients that would be washed away by the winter rains.  The same is true for fertilizers; wait until spring, whether you choose organic blends or synthetic additives.
Such a combination will ensure a happy and well-fed soil, awaiting the warmth of spring. Bring on the seed catalogues!
https://russellnursery.com/wp-content/uploads/2011/10/linda-yard-mulch2-web-fmt.jpg
450
600
Kathryn Verlinden
https://russellnursery.com/wp-content/uploads/2022/04/russell-30th.svg
Kathryn Verlinden
2011-10-30 09:28:36
2021-01-21 05:50:14
Amending Your Soil For Winter