Late Winter In The Garden; Hellebores And Epimediums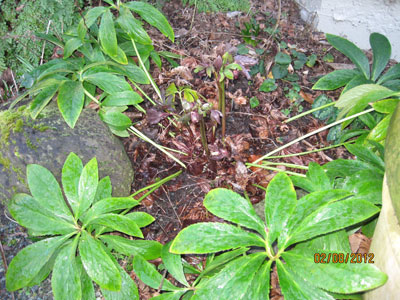 It's very tempting to call this Early Spring, but let's not risk jinxing it.  CBC even threatened possible snow for next weekend, so I'll be careful what I say.  Was it my thought of starting some seeding that brought back the cold weather??
It's still very wet and muddy out there, so there shouldn't be a lot of stomping around on the soil yet. However, there are a few tasks that should be done before the warmth progresses much further.
If you read my blog last year at this time about cutting back ferns,  you'll remember how important it is to cut evergreen plants back before the new growth emerges, lest you cut off the new with the old.
Epimediums are a particularly useful ground cover; they thrive in dry shade, deer find them unappetizing, and they are evergreen.  What's not to love? The dainty leaves take on a burnished bronze in winter, then just before spring they need to be lopped off in preparation for new growth. The key is to cut it all back just before the delicate little flower stems reach up into the canopy of leaves. The emerging stems unfurl, not unlike the way fern fronds uncoil, from a crouching position to standing  tall; well about 8" tall, anyway.  This seems to happen all of a sudden, and if the leaves aren't already cut back, it's impossible to separate the two, resulting in flower buds lying sadly on the ground with last year's leaves.
In the dark days of February the light isn't conducive to great photo shoots in my garden, but here you can just see the first little brave bud starting its journey skyward, after the leaves had been shorn. Within a few days, many more buds will follow.
Is there any more welcome sight in winter than the charming faces of Hellebore blooms? Modern hybrids offer not only a vast assortment of colours from pink to yellow to purplish black to pure white, but the outward facing blooms on sturdy upright stems make these gems irresistible.  They are very drought tolerant once established, do well in shade as well as sun, and the deer don't eat them.
They don't like being divided, are a low maintenance perennial with few pests. The one thing you do need to do at this time of year however, is to cut off the ratty leaves when the plant is blooming, as this is when the new foliage is emerging.   The old leaves become leathery and lay on the ground at this time, making it easy to see what to cut.   Don't put the hellebore leaves in your compost, as a precaution against the black spot fungus that hellebores often get on old foliage.
The picture shows the big glossy leaves surrounding all the new growth. Cut off all the big leaves, as hard as this may be to do!
By keeping your perennials cut back at the right time of year, you are refreshing and renewing the life of your garden, and giving yourself the much needed boost of a little time in the garden at a very dark time of year.
How soon until we can safely call this Early Spring? One thing we can do without harm, I think, is get our seeding trays washed and check our supply of seeds from last year, buy some choice new ones…..…next week, seeding indoors. 
https://russellnursery.com/wp-content/uploads/2012/02/hellebores-needing-cutting.jpg
300
400
Kathryn Verlinden
https://russellnursery.com/wp-content/uploads/2022/04/russell-30th.svg
Kathryn Verlinden
2012-02-23 09:08:33
2022-03-06 21:05:02
Late Winter In The Garden; Hellebores And Epimediums