Controlling Moss In Lawns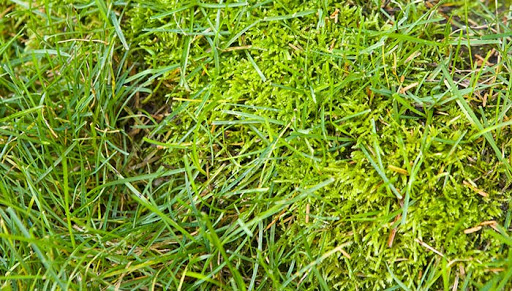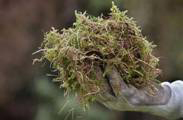 Moss thrives in our rainy climate and naturally acidic soils. It loves wet, poorly drained soil and does best in shady spots where the grass struggles to grow. The only way to really solve a moss problem is to determine and remedy the cause.
Drainage: Improve the porosity and drainage of your soil by aerating it. You can rent aerators, but they are heavy and awkward. It's easier (and often cheaper) to get a lawn company to come and aerate for you. After the lawn has been aerated, spread a thin layer of coarse sand over the aerated areas to fill up the holes. The sand will work its way down and, in time help to greatly improve the drainage. For best long term results this aerating should be done annually.
Shade: Previously sunny parts of the garden can become shaded as trees and shrubs mature. Cut them back or thin them out to allow more light through. If it's not possible to let in more sun, you may want to rethink the whole idea of lawn and either let the moss take over, or replace the lawn with suitable groundcover.
Acidic Soil: The best way make soil less acidic is to raise the pH, and the easiest way is to apply lime. Dolopril is the best type of lime to use as it's easy to apply and it works quickly. Typically lime is applied in the spring, but it can also be applied in the fall when it will help to prevent the growth of moss over the winter.
Moss Killer: Once you have changed the conditions that promote the growth of moss, and increased the pH level, it is time to get rid of the moss. Lawn fertilizer with iron sulphate will kill the moss and feed the grass at the same time. For best results the forecast should be for a couple of days of dry weather with temperatures above 10 degrees. When the moss killer has done its job, rake out all the old dead moss.
Maintaining a healthy lawn will make it harder for the moss to re-grow. Plus, it makes it difficult for weeds in general to take hold. Re-seed any bare patches and fertilize regularly over the spring and summer. We like to recommend Milorganite, which is organic and promotes good microbial activity in the soil, which in turn makes the grass grow lush and green. Water at least enough to keep the grass from browning out.
Don't forget: moss spreads by spores, so complete the process by trying to clean up the moss from other areas of the garden like the roof, sidewalks and under shrubbery.
https://russellnursery.com/wp-content/uploads/2014/01/moss-in-lawn.jpg
291
512
Kathryn Verlinden
https://russellnursery.com/wp-content/uploads/2022/04/russell-30th.svg
Kathryn Verlinden
2014-01-25 16:54:32
2021-01-08 01:23:53
Controlling Moss In Lawns