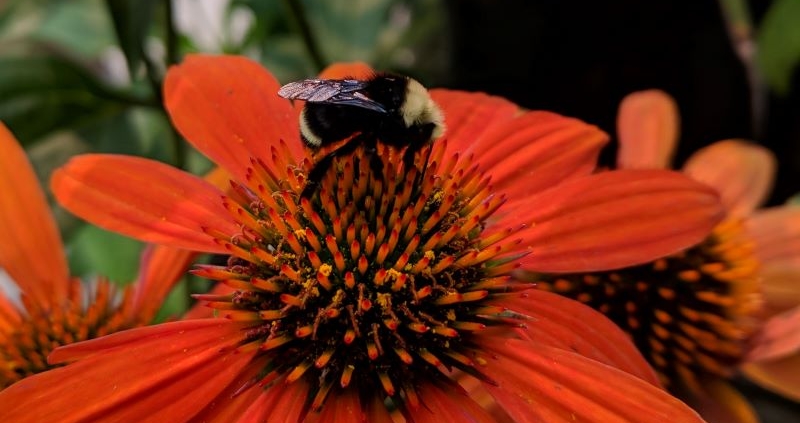 *** It's very important to have flowers all season long, from February to frost, to satisfy the early Masons right through to the late season foragers. Plant several of each, as bees like to ensconce themselves in a big patch of their favourite flowers and just hang out, gathering pollen and sipping nectar in the sun.
***Bees are classified according to their tongue length! A variety of flower shapes from flat daisies to large convoluted and tubular blossoms will keep them all happy.
***Let your herbs and veggies (especially brassicas) go to flower; all kinds of bees and beneficial insects will thank you.
***Try to keep all pollinator plants watered in times of drought. They may survive well without water, but their nectar supply dwindles, dries up without regular water, depriving the bees of an important source of carbohydrate.
***Bees and all insects need a source of water. Bird baths are good, but the pollinators all need a perch to stand on, put a large flat rock in with the water. Even the smaller birds will find this helpful. An interesting fact is that conifers planted in the garden hold the morning dew amongst their needles, providing a drink for the smaller critters.
The list below is far from a comprehensive list, but highlights of some of the best.
EARLY SEASON
Oregon Grape (Mahonia); our native Mason bees, bumble bees
Pieris; all varieties flower early, loved by Mason bees
Red-flowering currant (Ribes) important source for Masons
Winter heathers (Erica); often seen swarming with bumbles and honey bees here at the nursery
Sweetbox (Sarcococca); shrub, flowers early and loved by emerging bumblebees
Clover in the lawn, allowed to flower, attracts many bees. Wear shoes!
Bluebells; while somewhat weedy, they are great for long-tongued bees
Foxgloves (Digitalis); big clumsy bumbles love them, also Masons and others
Camas; important early source of pollen for queen bumblebees
Shooting star (Dodecatheon); native, bees hang upside down to access nectar and pollen; an important bumble bee plant
MID to LATE SEASON
Blanket flower (Gaillardia) has 32% sugar content in nectar, a stellar bee plant
Gayfeather (Liatris); late blooming honey plant; large swath for best effect
Hyssop (Agastache); special value to native bees, and significant to bumblebees
Lavender; another plant that is always swarmed at the nursery
Coneflower (Echinacea) attracts many different bees with its vibrant colour petals
Sunflower; one of the best for all summer bees, attracting from a long distance
Ocean Spray (Holodiscus); native shrub, good for butterfly larvae and native bees
Russian Sage (Perovskia); purple colour loved by honey bees and bumble Queens
Catmint (Nepeta); honey bees and bumble bees collect both pollen and nectar
Goldenrod (Solidago) draws native bees and bumblebees, acid yellow colour
Vine Maple (Acer Circinatum) native tree for native bees, host for Swallowtail
Wild rose (Rosa nutkana) loved by leafcutter bees, host for many butterflies.
Aster; fall source of pollen and nectar, a very important plant for bees
Sneezeweed (Helenium); always covered in honeybees!
Joe-Pye Weed (Eupatorium); fall honey plant, also native bees and butterflies
Sedum, especially Autumn Joy, is covered with honey bees in late summer and fall
To really see which plants are pollinator favourites, just walk through the nursery at any time of year. The bees will tell you!
https://russellnursery.com/wp-content/uploads/2019/07/Bee-on-Echinacea.jpg
800
800
Kathryn Verlinden
https://russellnursery.com/wp-content/uploads/2022/04/russell-30th.svg
Kathryn Verlinden
2019-07-12 14:45:16
2023-04-30 23:25:09
Plants To Entice Bees To Your Garden