A Gallery of Alliums for Every Garden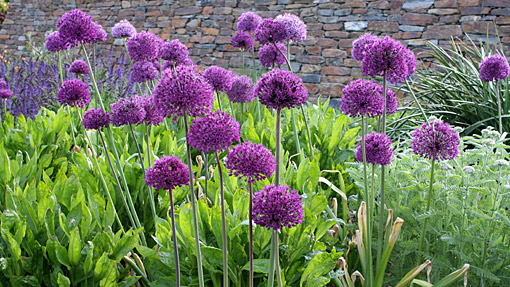 By Faye 
Onions are alliums, chives are alliums and leeks are alliums. Alliums are among the oldest cultivated plants in the world, adding much to nearly every global cuisine.
Ornamental alliums however, are relatively new to the landscape, being developed in Holland around the middle of the 19th century. Many new varieties have been introduced in the last decade, and oh, what a wonder they are!
Ranging in size from ping pong ball to larger than a basketball, globe-shaped, allium flowers add sophistication, architectural interest and colour for months, rising elegantly on leafless stems above strappy foliage. They bridge the gap between the spring blooming stars of the early garden and summer flowers, and after their bloom is spent, alliums offer even more with their outstanding seed heads. Writing this article in October, I still have stunning orbs of Schubertii seed heads in my front garden that literally stop passers by in their tracks.
While popular with butterflies and other pollinators, they are avoided by deer and rabbits presumably to avoid onion breath! I have had the pre-bloom foliage sampled occasionally but the flowers are never touched. They thrive in full sun in average, very well drained soil; like other bulbs they resent soggy ground. With these minimal requirements met, alliums will bloom reliably for years.
Alliums play well with others, in fact they are best planted with leafy perennials in front to cover their foliage, which does tend to look less than stellar by the time the blooms emerge. The tall, stately orbs show well in the mid to back of the border.
The famed landscape designer Piet Oudolf favours alliums in his meadow-like landscapes, pairing them with undisciplined perennials and grasses, but they are equally at home in a formal design with more architectural plantings. While alliums in general have similarities, several unique characteristics are described below.
Allium azureum, one of the true blue flowers in horticulture, stands out from its peers by the clear blue orbs atop the 80 cm stems. Delightful sprinkled through a rose garden, with penstemon, hardy geraniums, or yellow daisies.
Bulgaricum has a slightly different flower style, with creamy bell-shaped pendant buds that dangle from stem top as it approaches the 30-60 cm height.  This is a very elegant plant alongside wider leaved plants such as sun-tolerant blue hostas, Calla lilies, Alchemilla mollis.
Aptly named, Allium 'Chameleon' does change colour as the flower matures. Starting off dark rose to pink, then white with stripes, it is loved by bees as are all alliums. Only 35cm tall, this is one to grow in a drift near the front of border, perhaps with small conifers or broad leafed perennials.
Christophii, or Star of Persia, grows to only 50cm tall, but the umbels are a massive 20cm, followed by attractive seed heads. Each umbel consists of up to 100 star-shaped pinkish flowers with a metallic sheen. Due to the size of the full umbel, plant only 1 bulb per square foot, and allow it to stand out by planting with fine grasses. This variety has received the coveted Award of Garden Merit from the RHS.
Try Drumstick allium with Stipa tennuissima, Perovskia 'Little Spire', and Lilies. Diminutive egg-shaped flowers start off green, then pink then turn a dark reddish hue, and planted densely (16 per square foot) will age gracefully, fading through summer. Grow where you want a more 'casual' look.
'Fireworks' really does look like an explosion of colour. Only 20cm tall, full of spring freshness which will blend well with late season tulips in similar hues, or use as a vibrant splash among Heucheras and other foliage plants.
'Graceful Beauty' with 3" starry white flowers looks beautiful planted in drifts through the garden. Peonies, Lambs' Ears, and grasses are lovely companions. This is an American native, cultivated since 1857.
Hair allium does look like it's having a bad hair day, in a delightfully charming way, of course. Big on attitude, this little beauty is a whimsical conversation piece to be sure, and stands out with poppies, irises, penstemon and lilies.
'Purple Sensation' being slightly larger, looks full at 9 bulbs per square foot, planted in drifts. It is the earliest allium to flower. Outstanding combined with silver foliage, pale variegated leaves, Lupins, Euphorbia, and Alchemilla mollis. Favoured by flower arrangers for its long-lasting blooms.
Allium 'Schubertii' is a massive umbel (30cm) that looks like a botanical explosion. It dies back gracefully to leave behind a long-lasting seed head that may be more impressive than the bloom itself. Stunning in late spring with shrubs such as Berberis, conifers, and columnar flowers such as Salvia and Foxglove. Another RHS Award of Garden Merit plant, this one's exceptional.
Alliums bring colour, style, and architectural artistry to the garden. They enhance other plants and bridge the gap between late spring and early summer bloom. They are reliable, deer resistant, and easy to grow, so what's not to love? Do try them, you won't be disappointed.
https://russellnursery.com/wp-content/uploads/2016/10/Allium-Purple-Sensation.jpg
287
510
Kathryn Verlinden
https://russellnursery.com/wp-content/uploads/2022/04/russell-30th.svg
Kathryn Verlinden
2016-10-07 08:25:35
2020-11-05 19:42:40
A Gallery of Alliums for Every Garden