JUNE AT RUSSELL NURSERY

Open Monday thru Sunday 9-5
WE WILL BE CLOSED SATURDAY JULY 1
HAPPY 150TH CANADA!

AT RUSSELL NURSERY WE HAVE A GREAT SELECTION OF:
Annuals, Conifers, Grasses, Herbs, Japanese Maples, Perennials, Roses,
Seeds, Shrubs, Small Fruits, Trees, Vegetable Starts, Vines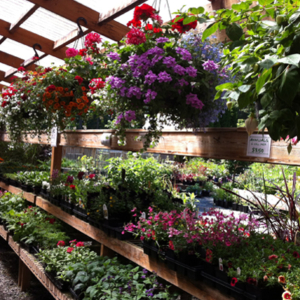 We are getting our last shipment of  ANNUALS so don't miss out.
Annuals are great for the deck but also to fill in any bare spots in the garden as they are quick to grow and can add instant colour to a drab corner.
They are also useful to hold a space in the garden bed while you are waiting for slower growing perennials and shrubs to fill in.
Hanging Baskets: We have Fuchsia baskets for the shade and Mixed baskets for a sunny location. If you don't have a hook that's okay because the same great look is available in a pot that can be placed on a table, bench or step.
​
The dahlia's are going fast, but we still have quite a few varieties to choose from:
click here for:  DAHLIA LIST 

| | | |
| --- | --- | --- |
| | | |
Late planting your tomatoes?
We have lots of 1 and 2 gallons ready to pop into your garden.
With summer produce just around the corner why not add some zest to your meals with fresh herbs picked right from your garden. Parsley, chives, mint, tarragon, and rosemary are a few that we carry.





Our second speaker Lori Weidenhammer, 'The BEE Lady" has kindly provided us with a list of Bumblebee Friendly Plants.
–

Questions about purchasing your own greenhouse then check out our sister site Halls Greenhouses BC.
Seasonal articles:
Peas To Perfection: Few garden crops rival the perfection of crisp peas in late spring….
How Not to Kill Your Seedlings: Killing your seedlings is easy, but so is growing them to become strong and ….
Irresistible Hellebores: It's hard to resist the siren call of hellebores.  Winter blooming …
Hellebores are Happy: Keep your hellebores happy and show their charming faces! These easy ….
Plants to Entice Bees To Your Garden: to see how you can help …
–
Subscribe to our newsletter: nursery news, seasonal gardening information and class schedules.