Turf the Turf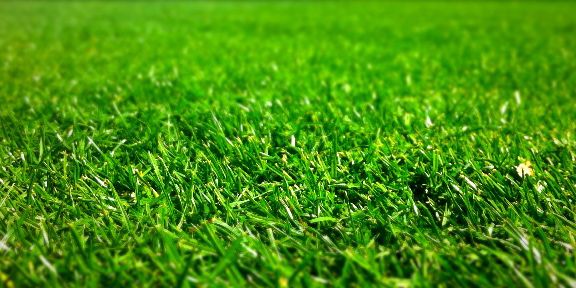 by Faye
The great Canadian lawn. Is it an oasis upon which to rest and rejuvenate your spirit, or is it a monstrous thirsty fraud? The pros and cons of keeping or killing turfgrass have become hot button issues for gardeners of all shades of green.
Historically, the lawn signified the emergence of the middle class and its financial independence, with no need to grow food to survive. A small vegetable plot in the back yard replaced fields of crops, and the front lawn was the symbol of rising affluence and liberation, the greenest grass on the block being the Holy Grail.
Recent trends toward water conservation and sustainable planting, along with a resurgence in growing our own food have meant that lush green lawns are on the hit list; not politically correct in many circles. There are so many reasons to eliminate vast swaths of lush green grass, and many reasons to keep them. Let's talk about the positive attributes of lawn first.
Nothing says summer like kids and dogs playing on green grass, maybe running through the sprinkler. Remember that? A quiet afternoon on the lawn chair with a good book isn't the same without the soft grass beneath your toes, and a picnic blanket spread on the lawn just adds to the pleasure. Aesthetically a calm swath of lawn gives the eye a chance to rest between the borders, an area of visual serenity.
If your standards don't demand golf course perfection, then a lawn needn't be a huge water drain nor fertilizer hog. Since herbicides are now unavailable in most of our municipalities, there is no longer a valid claim that chemicals are leeching into the waterways from the average home lawn. I know that the robins in my yard would be very disappointed if I removed our small patch of grass; they love digging for worms in the spring, and I for one enjoy watching the tug of war.
There are many reasons to remove at least some of our turf grass, depending on the sun exposure, drainage, and other land available to you. If the lawn is in the only patch of sunny real estate in your yard, and you want to grow vegetables, then replacing it with a kitchen garden makes sense. If the lawn is shady and moist and always a challenge to keep moss-free, then wouldn't a hosta and fern garden be an improvement? If your soil is very sandy and so fast draining that frequent watering is the only way to have a green lawn, then perhaps a dry garden featuring ornamental grasses, succulents and other drought tolerant plants would make your life easier and the visuals more pleasing than a struggling patch of sometimes-green grass.
One of the reasons many people want rid of the lawn is to reduce time spent watering, fertilizing, edging, aerating, and mowing the lawn. Loud and dirty lawn mowers are annoying, possibly spewing off fumes and generally aggravating the neighbours. There are many who say, however, that their lawn-care chores are nothing compared to the tasks required in a mixed planting of shrubs and perennials, so it's all up to personal preference how we like to spend our precious time outdoors.
HOW TO REMOVE A LAWN OR LAWN SECTION
Depending on what you plan to replace the grass with, there are many ways to kill off the lawn. The easiest method is the slowest way, but satisfying. If you want to replace the whole area with mixed plantings, and are doing it yourself, then sheet mulching is likely the best choice. Begin by mowing your lawn for one last nostalgic (but optional) time, just to make it flatter. Then spread compost or manure over the lawn, at 50 pounds per 100 square feet to help the microbial action and increase worm activity; remember that if you have been using synthetic fertilizers for years, you will have depleted the vast and lively population living beneath the ground. If you are putting mainly pathways and the occasional shrub or tree, then save the organic goodies for later. To smother the grass, you will need to cover it all with sheets of cardboard or 10 sheets (1/2" thick) of newspaper. The inks used these days are vegetable dyes, so perfectly harmless and organic. Make sure to overlap by 6-8" in all directions, to keep the grass from growing back between sections.
Now the fun part, covering up the paper layer with more compost or a 4-5" layer of leaves, and then the final layer of bark mulch. All of this will be ready to plant into within 6 weeks, or left over winter will greet you in the spring all ready to go, an organically alive palette for your creative juices to work on.
If your dream is to create a vegetable garden in this former lawn, there are again some options. One would be to build raised beds right on top of the lawn, filling the frames with the layers as suggested, or make the layers more varied as in Lasagna Gardening using manure, straw, compost, soil, and amending with an organic fertilizer blend. For the pathways around the beds you may choose to eliminate the compost layers, and cover the newspaper or cardboard with bark mulch, gravel, or pavers. Growing food rather than feeding and watering grass nourishes body and soul in a satisfying and happy way.
Many people are starting slowly, just making their existing lawns smaller, and beds and borders larger. Designing a whole new garden is after all quite a daunting prospect!
But what if growing veggies isn't your forte, you don't want more perennial and shrub areas, and you still want to walk on soft green surfaces? Many ground covers can take some degree of foot traffic, such as Corsican Mint, Baby Tears, Leptinella, some of the ornamental thymes, Blue Star Creeper, Herniaria glabra, and many more. We'd be happy to talk ground covers and offer suggestions.
In the absence of lawn, covering the ground is the way to cut down on weeds, preserve moisture, and protect the soil from extremes of wet, dry and wind. Whether you cover it with plants or some other organic material, you must cover it.
Eliminating some or all of your turfgrass is a choice. There are many reasons to join this movement, such as protecting the environment, growing your own food, enhancing wildlife, or good old plant lust; find what works for you, make a plan, and do it.
https://russellnursery.com/wp-content/uploads/2014/01/Turf.jpg
288
576
Kathryn Verlinden
https://russellnursery.com/wp-content/uploads/2022/04/russell-30th.svg
Kathryn Verlinden
2014-01-25 16:58:32
2021-01-08 01:20:15
Turf the Turf