Irresistible Hellebores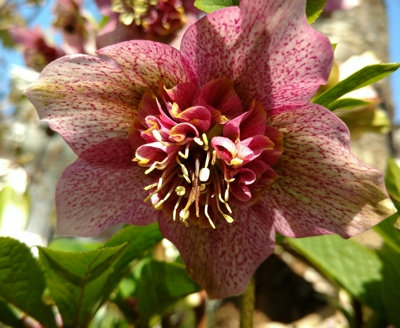 By Susan
It's hard to resist the siren call of hellebores.  Winter blooming, in a wide variety of colour and form, they are long lived and don't even need dividing. All that and they are both drought tolerant and deer resistant! No wonder we love them.  They are the most collectible of plants.
Helleborus niger aka Christmas Rose and H. orientalis aka Lenten Rose are the species we are most familiar with.  Hellebores seed themselves freely and are notoriously variable.  That variability has long fascinated plant breeders, who had to grow their different coloured plants miles apart from each other in order to have some control over pollination.  Growing hellebores was always a bit like hosting a pot luck dinner, they never knew what they were going to get.
The real challenge though, comes in duplicating hellebores.   It's only relatively recently, thanks to new techniques like tissue culture, that hellebores have been readily available commercially.  Hellebore varieties are still often sold as 'seed strains', meaning that one will be similar to others in the group, but rarely the same.  They have become complex hybrids, known botanically as Helleborus x hybridus.
Hellebores have come a long way from their original murky shades of pink and white, thanks to breeders like Marietta O'Byrne from Oregon's NorthWest Garden Nursery.  Her 'Winter Jewels Collection' features doubles and singles, rich colours and intricate patterns which result from hand pollination and careful selection.  Even their names are irresistible – 'Berry Swirl', 'Onyx Odyssey', 'Golden Lotus',  'Apricot Blush' to name a few; they even sound enticing.  The colour and form of each plant will be similar to others in the strain, but again, rarely identical.
Through successive generations the colours become more stable, and the strains improve.  Hellebores can be expensive, but considering the amount of work that goes into producing them and the fact that they will live for years, they can be considered an excellent investment!
​
How to Grow Hellebores
We think of hellebores as woodland plants, but in their native Eastern Europe they are found growing in open sunny meadows in alkaline soil.   They are very adaptable though, and will thrive in a lightly shaded acidic woodland.  Although they are drought tolerant, hellebores are at their best in moist, rich, well-drained soils.  At planting time, dig in plenty of leaf mould, garden compost or mushroom manure.   Additional feeding is not usually needed, but an occasional application of a balanced slow release fertilizer won't hurt.  Mulch occasionally in spring with compost.
It's a good idea to cut off all the old foliage just as the flowers are starting to emerge.  For one thing, the flowers will show better when the foliage is cut away, but the main reason is to keep the plants healthy.  By spring the old foliage is ratty looking and buggy.  Removing it will allow the new foliage to stay clean.  Put the old foliage in the garbage, not the compost.
Warning: Buying hellebores can be habit forming and can lead to obsession!
If you are interesting in exploring the world of hellebores the Plant Delights website is a great place to start
https://russellnursery.com/wp-content/uploads/2016/03/Hellebore-Tutu-400x.jpg
328
400
Kathryn Verlinden
https://russellnursery.com/wp-content/uploads/2022/04/russell-30th.svg
Kathryn Verlinden
2016-03-02 13:26:30
2023-04-30 23:26:00
Irresistible Hellebores