A Fresh Approach To Planting Bulbs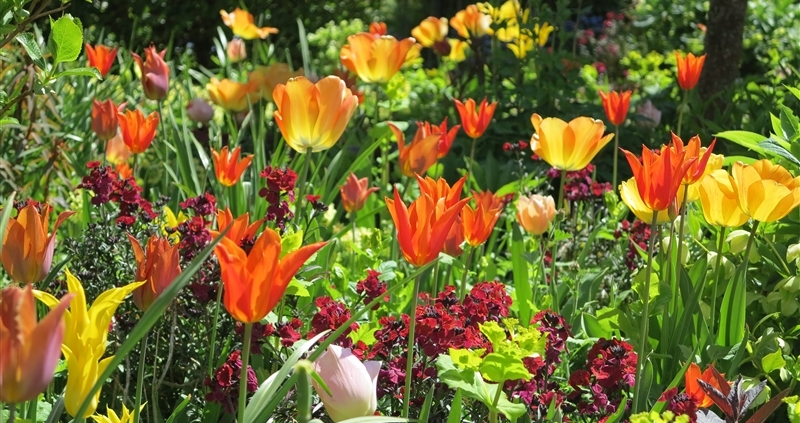 When I first saw photos of Dutch garden designer Jacqueline van der Kloet bulb gardens, I was struck not only by how beautiful they were, but also by how well they would work in our relaxed West Coast gardens. She leans towards soft colours punctuated with splashes of bright ones and plants in a loose natural style.  Her work can be seen in public gardens all over the world, but the same principles can be used to create beautiful displays in gardens of all sizes.
Traditional bulb plantings are based on contrasting blocks of bold colour.  Jacqueline picks a colour scheme, selects the bulbs and mixes them all together in the wheelbarrow.  In traditional plantings, the bulbs are spaced with geometric precision, but she literally throws them on the beds and plants them more or less where they land. The results are reminiscent of Impressionist paintings.
The majority of course, are spring blooming but summer bloomers can be added to the mix to provide a long season of colour.   Spring bulbs could be followed by alliums, lilies, gladiolus and dahlias.
Most of us add bulbs to mixed borders as an after-thought, tucked in here and there, but Jacqueline starts with bulbs and adds complementary perennials, grasses and shrubs to add structure, round out the beds and hide the old foliage as it dies down.  While starting from scratch isn't likely to be an option in most gardens, reworking empty spaces might be.  When bulbs are planted in isolation, there is always the issue of what to plant when they die down and what to do with all that messy foliage.
When planning plantings of mixed bulbs, the trick is to keep it simple – limit the number of varieties to three or four in a small area, add a few more in a larger one.   Small bulbs should out number larger ones and there should be enough to make a good show.   Mix the bulbs together, toss them on the bed and plant them where they lie.  Some will be planted more closely together and others further apart.
The best choices are bulbs that will come back year after year.  Leaving the foliage to die down naturally will encourage them to come back in greater numbers.  Ideally beds with bulbs should be kept on the dry side in the summer so they don't rot.
It will be interesting to experiment with this new way of planting bulbs, there are so many to choose from.   Take the guesswork out of the process by trying some of the prepackaged assortments.  They are designed to produce either a prolonged display or one big show. Your choice!
https://russellnursery.com/wp-content/uploads/2014/10/Theetuin-3-Jacqueline-van-der-Kloet.jpg
600
800
Kathryn Verlinden
https://russellnursery.com/wp-content/uploads/2022/04/russell-30th.svg
Kathryn Verlinden
2014-10-09 08:24:58
2022-02-05 04:59:14
A Fresh Approach To Planting Bulbs