Ten Tips For Successful Planting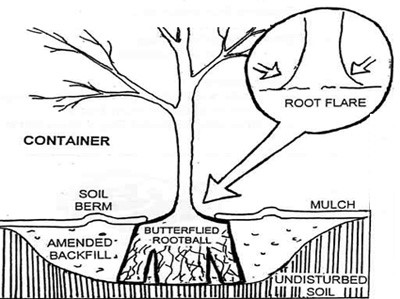 The principle of 'Do it once, do it right' definitely applies to planting. Get new plants off to a good start by paying attention to the basics. You will be glad you did.
1. Plants Grow!  The most common planting mistake is not allowing enough space between plants. Read plant tags carefully to determine appropriate site and spacing.  
2. Soak plants well while still in their nursery pots
.  Soak in a bucket or dribble with the hose.
3.
Dig the planting hole
 t
he same depth as, and 2 to 3 times wider than the root ball.  Fill with water and let it drain away – more than once if it's dry.
4. Tease and spread roots gently outward. Entwined roots need loosening – slice vertically and splay.  If the roots are a solid mass, slice an inch or so right off the bottom. Don't skip this step!
5. Find the root flare and place plants in the hole, make sure that the root flare is at grade.  Do not plant too deeply – the root flare should be at the soil surface.
6. Half fill the hole around the plant with native soil. 
 Add a handful of bone meal and no more than 25% of amendments like compost.   Exception is heavy clay – mix in one third gritty compost and/or bark mulch. Water the partly filled hole to settle the soil, then top up with the rest of the soil. 
7. Tamp down soil around plant, gently but firmly.
8. Mulch around plant with compost or bark mulch .  Avoid getting mulch close to woody stems or crown of plant.
9. Stake trees 
with a sturdy stake on either side of the root ball.
10. Water slowly and deeply.
Always water at planting time, even if the soil is wet and it's raining. Watering settles the soil around the roots and eliminates air pockets.
Summer is the time to check your irrigation
It's easier to see problems in the summer and fall, when shrubs are in leaf and perennials are full grown, than in spring when branches are bare and plants are dormant. Look for sprinklers that are blocked or areas that are being missed and either repair or make a list for spring.
Winter is the time to check your drainage
It's hard to relate to poor drainage at this time of year, so make a point of touring the garden when it's really wet, and looking for squishy spots. Make note of areas that need to be remediated or replanted with water tolerant plants.
https://russellnursery.com/wp-content/uploads/2017/10/Tree-flare-diagram.jpg
299
400
Kathryn Verlinden
https://russellnursery.com/wp-content/uploads/2022/04/russell-30th.svg
Kathryn Verlinden
2017-10-19 16:48:42
2020-11-05 18:14:42
Ten Tips For Successful Planting