Consider A Pine

by Wendy
Here at Russell Nursery we are often asked for plant ideas for challenging situations.   A common request is for a plant that looks great year-round, is low maintenance, and tolerates full sun, drought and deer. Sound like the perfect plant for you? Our advice – consider a pine.
Pines are evergreen conifers that grow to a range of sizes. The many different varieties of pines have an architectural quality which lend character to a garden and provide year-round interest. They are very low maintenance, drought tolerant once established and require no pruning. If you do need to control size please ask our staff about how to 'candle' a pine.
Pines are also good candidates for seaside (they withstand both wind and salt exposure) and container plantings (usually we would recommend smaller specimens for this).
Please check in with us to see what we currently have in stock or come by to browse. Here are some staff favourites:
Pinus thunbergii 'Yatsubusa'

JAPANESE BLACK PINE                           

Yatsubusa is a beautiful pine with a strong presence.     It is relatively compact conifer with silver-green needles. It grows to about 8 feet tall and 6 feet wide in ten years. Use this pine as a specimen to add weight and a bit of height to any sunny bed or border.
Pinus sylvestris 'Waterii'

WATERI SCOTCH PINE

Waterii is a stalwart beauty for the garden. It is a dense and easy to place pine with a pyramidal habit and lovely blue-green needles. It grows about 8 feet tall and 8 feet wide in ten years. Use this pine to create privacy or structure. This pine easily fits into many garden styles.
Pinus nigra 'Gaelle Bregeon'

DWARF AUSTRIAN PINE

Gaelle Bregeon is a sweet little pine. This is a dense, very small rounded pine with deep green needles. It grows to about 1 foot tall and 2 feet tall in ten years. This is a very suitable plant for the rock garden. It also does very well in a sunny container. A similar but slightly larger and more conical pine is Pinus nigra 'Hornibrookiana' (2-3 foot tall and 3-4 feet wide).
Pinus thunbergii 'Kotobuki'

JAPANESE BLACK PINE

Kotobuki is a fabulous narrow upright pine with a somewhat irregular and open habit. It sports dark-green needles on branches that grow upward. It grows to about 10 feet tall and 6 feet wide in ten years. Use this pine to add interest to your rock garden. This pine also lends itself well to bonsai.
Pinus strobus 'Tiny Kurls'

EASTERN WHITE PINE

Mini Twist is one example of the many rare and unusual pines we have in stock. This pine is a dwarf oval globe with dark blue-green twisted needles. It grows at a rate of about 5-10cm per year. A perfect choice plant to add something unique to your garden. Another fun variety is Pinus strobus 'Sea Urchin' (which grows to just over 1 foot tall and 1 foot wide.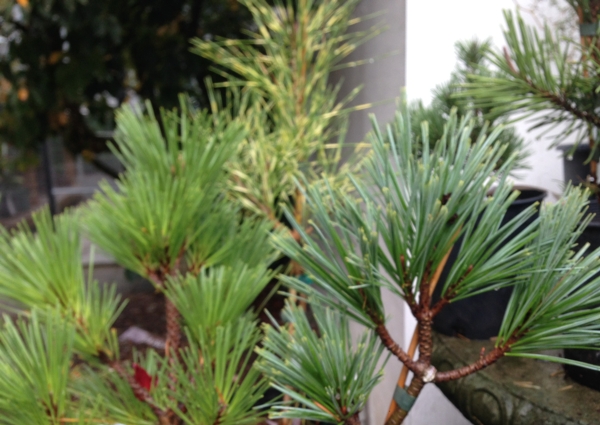 https://russellnursery.com/wp-content/uploads/2017/10/White-Pine.jpg
883
1177
Kathryn Verlinden
https://russellnursery.com/wp-content/uploads/2022/04/russell-30th.svg
Kathryn Verlinden
2017-10-19 15:49:52
2020-11-05 18:05:43
Consider A Pine