Stuffed Tomatoes – Using Striped Cavern Heirlooms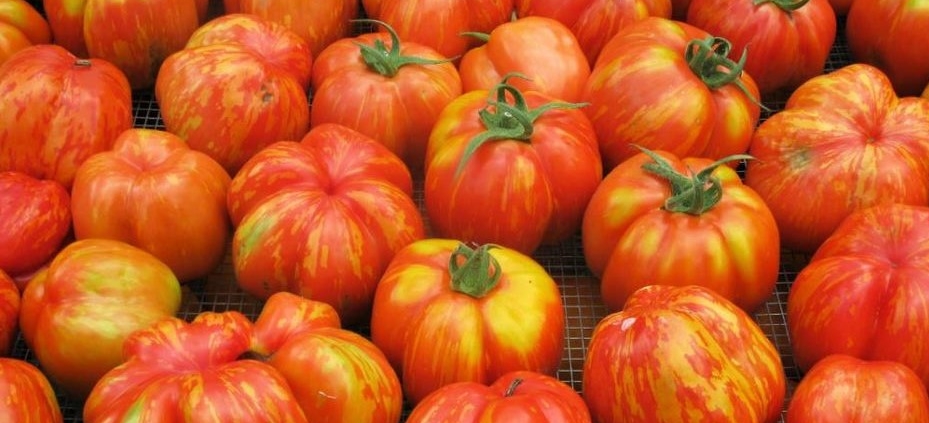 These tomatoes are particularly suited to stuffing; they are large, hollow, and contain few seeds or pulp, with firm 'walls'.
6 Italian sausages, meat taken out of the casings
1 cup cooked rice, or quinoa, bulgur, or any grain of choice
3 green onions, chopped
1 cup grated zucchini
lots of garlic and fresh basil, chopped
salt and pepper to taste
Cook and stir the above until sausage meat is no longer pink. Drain off any excess liquid.
Cut tops off the tomatoes. This is probably enough for about 8 tomatoes, but depends on the size, of course. Stuff them fully, then top with grated cheddar or any cheese you like. Consider this more of a guideline than a recipe, just add whatever suits your taste.
Bake at 400 degrees for 30 minutes.
After cooling, they freeze well, and are a welcome treat in the winter months.
Vegetarian? Check the internet for dozens of great recipes.
Enjoy!
https://russellnursery.com/wp-content/uploads/2015/08/Striped-Cavern-tomato.jpg
548
929
Kathryn Verlinden
https://russellnursery.com/wp-content/uploads/2022/04/russell-30th.svg
Kathryn Verlinden
2015-08-21 14:22:57
2020-12-05 03:11:09
Stuffed Tomatoes – Using Striped Cavern Heirlooms