Harvesting In Early Spring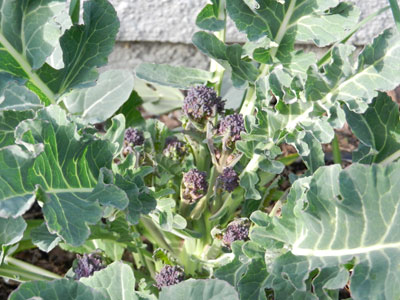 Growing our own vegetables has become a passion. Who knew that the third millennium AD would find city people going back to the earth in droves, growing food in back yards? Way back in the olden days we thought it would bring only high tech, and cars that flew.  Well, it did bring much of this, but for a variety of reasons people are searching for safer, more nutritious food and the best place to start is in our own gardens.
One of the best ways to do this is to make your garden work all year long, not just in the summer. This past winter has seen more nutrition grown in my back yard than ever before. Winter? Yes, winter.
I've had chard, spinach, kale and purple sprouting broccoli to pick for months now. We finished the leeks in January. I showed you pictures of my winter crops during the snowfall in January, and harvest time is now at its peak. This is what my chard plants looked like just before the warmer days arrived.
Chard is almost a full year delicacy, as it can be planted now, eaten all summer, then go through the winter and give one final burst of growth before starting all over again next year with fresh plants. It's now bigger and lush; I just keep cutting leaves off the outside, allowing the central new growth to put on size.
Kale was enjoyed all winter, and with the coming of spring it started forming flowers, leading of course to seed. The flowers are incredibly attractive to beneficial insects, so I'll let some of them open up, but most are being harvested and given a light steaming……delicious!
I usually grow Lacinato Kale, the black crinkly leaves being very nutritious and yummy as well. Did you know that Lacinato Kale is the original precursor to all of the cabbages? I have found many excellent recipes using kale, and this year I'll grow other varieties as well.
I sowed spinach seed in September in a large plastic pot, and put the pot in my greenhouse just to see how they did there. I do keep the greenhouse just above freezing, since I store my Aeoniums in there for the winter, and they cannot tolerate frost. The spinach seeds kind of languished, as they were planted too late to show any growth before winter set in. However, as soon as the days started lengthening in February I noticed that the spinach was putting forth luscious growth of tender succulent leaves, and now I pick it weekly. This year I'll start earlier and have a proper crop. One thing to know about spinach is that it sets seed according to day length, so no matter what you do it will bolt to seed in June.  This is another reason to grow it in the fall and winter.
Purple sprouting broccoli is an amazing plant. It's a biennial, meaning that it starts growing one year, overwinters, then produces and goes to seed in the second year. We plant this in August, ensuring that it's pretty much full size by Halloween; then it quietly overwinters. Some time in March it starts producing small purple broccoli heads along the sides of its main stem and all along side branches, and continues abundantly until about June, by which time you have had more than your fill of this health-giving vegetable. Like peas, it's really good eaten raw, standing in the garden with a bit of mud on your boots!
But try steaming it like you do with regular broccoli; a little butter, salt and pepper, or lemon…..personally, I love it with a bit of Japanese seaweed paste…….divine. Yes, you do pick the sprouts when small; as with most garden veggies, small is good. Size matters.
While my picture, taken in March, is rather puny, apparently this wonderful crop will be waist-high by the time it's finished. Wow!
Now that I have enjoyed the delightful and delicious crops grown during the winter months, I will never ever be without them.  I don't have a lot of sunny real estate in my garden for veggie growing, so I have to make the most of what I have. One of the best ways is to make the garden produce crops all year, not just in the summer. Try it, and I promise you that you'll never regret it, and never go back to summer-only harvests.
Note: for more complete information on growing winter vegetables, or any vegetables any time, check out Linda Gilkeson's book Back Yard Bounty.
https://russellnursery.com/wp-content/uploads/2012/04/purple-sprouting-broccoli.jpg
300
400
Kathryn Verlinden
https://russellnursery.com/wp-content/uploads/2022/04/russell-30th.svg
Kathryn Verlinden
2012-04-20 07:44:49
2021-01-21 05:40:20
Harvesting In Early Spring