The Turf Is Turfed!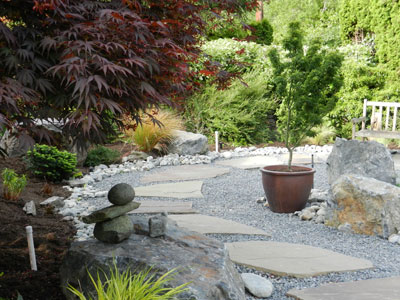 by Faye
Last fall I wrote an article, Turf The Turf, about getting rid of lawns, and have been pondering this possibility ever since.
My front lawn wasn't huge, nor was it golf course perfect. It was passable, and along with the quack grass-infested beds that surrounded it, it was a source of stress in my otherwise rather low-key garden.  As I'm not getting any younger, I worried about how I'd manage it "later on", given that I'd far rather spend time growing tomatoes and beans in the back yard, than lawn in the front yard.
I thought of taking out just some of it, covering it with cardboard and mulch to gradually rot it down.  How to go about this project?
I mentioned this quandary to my friend Twyla Rusnak, one half of Rusnak Gallant Ltd, a landscape company that excels in hard scape, yard renovation, and innovative design of gardens, and she offered to come over to have a look. (for more information see rusnakgallant.com) Well, her enthusiasm for what could be done captured my imagination, and I entered the world of garden reno. The team that Twyla employs performs this task like a ballet, each performer dancing with skill and artistry.
The first stage of course was the planning; what did I see as the end result? Did I want more beds, trees, ground cover? Did I want very low maintenance? Yes yes!!
Twyla used a can of spray paint on the grass to outline areas we saw as beds, rock areas, and a bench setting.
Before we could start work, I had to decide which of my existing plants could be saved. They were dug out, weeded, and stockpiled on tarps and in pots, in a cool shady spot.   As mentioned, my garden had always been infested with quack grass, so the soil would be removed with the lawn, and taken away.
The big day arrived, machines came rolling up the road and large slabs of plywood were placed on the driveway as protection. In about half an hour, my lawn was scraped off, put into a truck, and the offending soil soon followed.  Wow, how fast this has happened.
Next stop, to the rock quarry with Illarion Gallant, Twyla's husband.  Together we chose giant boulders, and they were tossed into a truck by a machine that handled those boulders like they were sandbox rocks.
Back to my yard now bereft of green, the real dance began. Illarion supervised the placement of the boulders, moving them this way and that, one inch to the left or right.
Once the boulders were placed, irrigation lines were dug in.
The process sped up considerably at this point, with soil being trucked in both for the beds and under the crushed rock which would soon arrive.  Can you believe the remote controlled box operating the slinger to spread the soil?
Once the soil was sprayed in, it was raked smooth, several inches thick, then the area to be covered with crushed rock was first protected by really good quality landscape cloth, stretched taut then pinned down with huge staples. This will prevent weeds from coming up between and among the rocks, a gardener's nightmare!
The purpose of the soil under the crushed rock is so I can plant anything I choose, anywhere. I can simply push the rock aside, cut an X in the landscape cloth and there will be welcoming quack grass-free soil waiting underneath.
Needless to say, there is no landscape cloth where the beds will go.
There is just something about a welcoming path, so once the Pennsylvania Bluestone slabs were laid, it started to really look like a garden.
The crushed rock was sprayed in just like the soil was, making fast work of a daunting task.
At this point, the hardscape is complete. The crew tidies everything up, and my own job begins.
My first step before weeds blew in was to cover the beds with a 4-6" layer of leaf mold (from Victoria Gravel Mart in town). I spot amended each planting hole as well with some rotted hay and aged manure, then a bit of compost.
Designing the plantings has been a labour of love, with a lot of help from my friends at the nursery, and Twyla's seal of approval as well.
I have become enchanted with conifers the past few years; they are a varied and beautiful family of plants with every shade of green tinged with yellows to blues to coppers, and textures ranging from the fine and wispy to more structurally twisted and angular. Needles, cones, and bark complete the variations, and deer don't seem very interested.  Partnered with ornamental grasses, some broad leafed shrubs, and small trees, I have the bones of a beautiful garden that will please me and all who happen by, all year long.  Choosing flowering perennials to accent the garden has been like selecting jewelry for a favourite dress; as each plant is added I feel more joy that I made this decision to turf the turf. Although I will still have to water, fertilize and maintain, I feel that I have opted for something far more interesting, labour saving, and ecologically sound. Now I can truly say that I love my garden!
Plant list:
Here are just a few of the new specimens gracing my landscape; all profess to be deer resistant:
TREES:
Acer palmatum 'Shishigashira'
CONIFERS:
Chamaecyparis obtusa Nana Gracilis
Chamaecyparis obtusa 'Blue Feathers'
Cryptomeria japonica 'Little Gem'
Picea Likiangensis purpurea
Tsuga canadensis 'Jeddeloh'
Cryptomeria vilmoriniana
Abies balsamea Nana
SHRUBS:
Rhododendron pseudochrysanthemum
Cotoneaster 'Parneyi'
Zanthoxylum piperitum
Lonicera pileata 'May Green'
ORNAMENTAL GRASSES:
Anamanthele lessoniana
Stipa tenuissima
Uncinia uncinata
Miscanthus 'Strictus'
Carex tenuiculmis 'Cappuccino'
Hakonechloa 'Aureola'
PERENNIALS:
Phlomis russelliana
Eryngium 'Blue Sapphire'
Helenium 'Moorheim Beauty'
Euphorbia 'Schillingii'
Digitalis 'Apricot Blush'
Potentilla nepalensis 'Miss Willmott'
Many varieties of ferns and hellebores for shady area under Japanese Maple
https://russellnursery.com/wp-content/uploads/2012/06/garden-today.jpg
300
400
Kathryn Verlinden
https://russellnursery.com/wp-content/uploads/2022/04/russell-30th.svg
Kathryn Verlinden
2012-06-14 16:25:17
2021-01-21 05:39:48
The Turf Is Turfed!