Early To Bed For My Bees This Year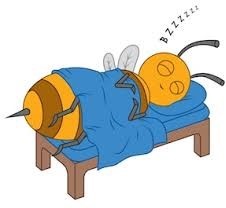 While it's still only November, I decided to put my Mason Bees to bed early.  I hoped that maybe my precious pollinators would have fewer mites if I got them cleaned earlier in the season. Any time between October and January is prime time for cleaning cocoons, and I've usually done this task in January.Our cold and damp springs of late have caused the local mite population to proliferate, and in damp neighborhoods such as mine, they positively thrive. They literally hitch a ride on the backs of the female bee as she carries her cargo of pollen into the bee house to sustain her young. Sadly, the mites are there in the chamber as she seals it; sealing the fate of her egg as well.
Each year I'm astonished to see yet more mites in residence. This year there were several cells with nothing but mites, obviously they consumed the egg before it could even develop. In spite of the mite infestation, the number of mature cocoons is greater than last year; the warm summer enabled the bees to stay alive long enough to make literally thousands of trips from blossoms to bee house, again and again, laying eggs for another generation of Mason Bees.
 Cleaning the cocoons is now easier with Brian's method of using sand to scrub them clean.
I actually went through the whole process twice this year, to make sure they were thoroughly clean.  Scrubbing them in the slurry more than a few times, I then rinsed them several times, and when they were dry on the paper towels, inspected it very carefully for any sign of debris. Once nice and dry in the cold garage, they will go into the fridge for winter hibernation, wrapped in paper towels then into a zip loc bag.
Over the past several years we have posted several articles on our website, detailing our own journey to making our gardens more welcoming to these friendly garden helpers, and providing tips on how to keep them healthy.  For more information, see the section marked Mason Bees.
Isn't it fun to think of the thousands of bees all of us have nurtured, and the delicious fruit they have provided?
https://russellnursery.com/wp-content/uploads/2013/11/Bee-in-bed.jpg
208
226
Kathryn Verlinden
https://russellnursery.com/wp-content/uploads/2022/04/russell-30th.svg
Kathryn Verlinden
2013-11-22 08:28:20
2021-01-07 23:15:19
Early To Bed For My Bees This Year