Seedy Saturday in Victoria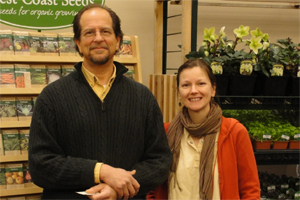 Nicole
This year was Victoria's 18th annual Seedy Saturday and my 2nd. Upon entering the Conference Centre there was an unmistakable buzz in the air, and it wasn't the mason bees getting ready to burst forth from their cocoons. It was the people: the volunteers, the vendors and the public. Everyone was excited to be there, and people were lined up out the door. There were so many vendors with a plethora of amazing products from seeds and bees to asparagus and Jujube trees, something for everyone.
One thing I noticed more than anything else was the sharing of information.
This open friendly sharing of knowledge is one of the major reasons I decided to stay in Victoria. I've never seen or felt a sense of competition, only witnessed everyone wanting success for everyone else.  And that's what I saw at Seedy Saturday, a group of like-minded people striving to connect to the earth in whatever way they could and wanting to pass that connection on to others.
Seedy Saturday is a fun and important gathering that gets everyone excited and supports a growing movement to a better more sustainable way of living.
https://russellnursery.com/wp-content/uploads/2011/02/seedysat2011briannicole.jpg
200
300
Kathryn Verlinden
https://russellnursery.com/wp-content/uploads/2022/04/russell-30th.svg
Kathryn Verlinden
2011-02-23 14:58:50
2021-04-13 23:28:11
Seedy Saturday in Victoria