Seasonal Stars in the Garden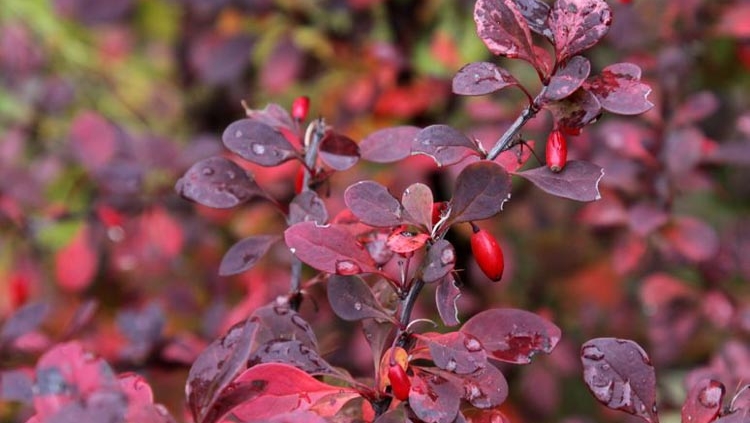 Do you find that there are times of year when your garden fades, when there is nothing stellar to notice and you have to say to guests "wait until fall (spring, winter or summer); my garden really looks good THEN!"
The secret to having a year-round beautiful landscape lies in planning ahead, cultivating plants which will shine during various seasons. There are few plants that truly are wonderful for all four seasons, but each time of year features those divas, stars, and yes even stalwart back-stage workers, to make yours a garden you can be proud of for 12 months of the year. The following is a list of only a few of our favourites. Please check with us for current availability. Trees may be tagged to hold for when they are ready in the fall.
SPRING
Alchemilla mollis (Lady's Mantle) blooms are lime green in spring. Fresh foliage holds water droplets like diamonds.
Amelanchier alnifolia (Saskatoon Berry) native shrub, delicate white flowers, edible fruit.
Amelanchier x grandiflora 'Autumn Brilliance' a tree with four season interest, beautiful white flowers in spring, tasty black berries in summer, brilliant autumn colour.
Aronia (Chokeberry) three seasons of interest — spring flowers become black berries in summer, then outstanding fall foliage.
Berberis shrubs have four season interest.
Brunnera 'Jack Frost' and 'Looking Glass' have showy blue flowers and gorgeous foliage.
Calamagrostis 'Karl Foerster' interesting upright, polite grass
The brilliant chartreuse flowers of many Euphorbias brighten the spring landscape.
Exochorda (Pearl Bush) pearl-like buds studded along branches.
Fothergilla flowering shrub, bright foliage in fall as well.
Grevillia 'Canberra gem' fresh new growth is very striking.
Magnolia stellata varieties bloom before leaves arrive.
Polygonatum (Solomon's Seal) beautiful from spring until the last stems finally fade out in fall.
Spireas especially 'Goldflame' which has bright orange/gold foliage.
Viburnum plicatum varieties — a good structural shrub.
SUMMER
Adiantum pedatum (Maidenhair fern) delicate fronds atop wiry black stems.
Astilbe flowers add colour to shady areas.
Buddleia shrubs attract butterflies, hummingbirds and bees.
Cercis Canadensis (Forest Pansy) small tree with burgundy heart-shaped foliage.
Crocosmia many varieties, flowers are rich and vibrant shades of orange/yellow/red
Fuchsia many hardy varieties; all provide long lasting flowers in shade.
Hakonechloa (Japanese Forest Grass) varieties give colour and lovely texture in shade.
Hostas check out some of the newer varieties for pure zing!
Hydrangeas are at their best in late summer; many varieties to choose from.
Kirengeshoma collector's plant, lovely in woodland settings.
Lilium; plant several varieties for continuous show of colour.
Magnolia 'Oyama' best magnolia foliage, later blooming.
Monarda 'Jacob Cline' (Bee balm); showy red blooms attract wildlife
Nepetas have grey mounding foliage and soft blue flowers. Cut back for second flush of
bloom.
Paeonia (Peony) summer flowers, autumn foliage colour, and deer proof too.
Philadelphus (Mock Orange) fragrant flowers in early summer.
Physocarpus (Ninebark) strong structure, colourful foliage.
Pyrus salicifolia (Weeping ornamental pear)
Robinia pseudoacacia 'Frisia' (Golden Locust) bright chartreuse foliage. We often sell out of this tree long before it's ready to leave the nursery in September.
Rudbeckia (Black-eyed Susan, Gloriosa Daisy) a classic, old fashioned and tough. Many varieties.
Sambucus nigra 'Black Lace'or 'Black Beauty' (Elderberry) shrub with glossy purple-black foliage.
Sedum 'Dazzleberry' has purple foliage and dark pink flowers
Spanish Olive shiny black olives, attractive leaves.
Stewartia considered a four-season tree.
Styrax japonicus 'Emerald Pagoda' (Japanese Snowbell Tree) graceful habit, good foliage and white blossoms in summer, followed by little green pear-shaped seeds.
Zanthoxylum piperitum (Japanese Pepper Shrub) interesting, fragrant foliage and deer resistant.
AUTUMN
Acer rubrum or for a smaller tree, the Japanese Maples; what can be more lovely in fall than a red-leafed maple?
Aconitum 'Arendsii' (Monkshood) has tall, saturated-blue flower spires that deer do not eat.
Anemone japonica perennial with tall stems of simple elegant flowers, spreads nicely in garden bed. A classic.
Aronia (Chokeberry) autumn leaves are like red embers in a campfire.
Blueberry not just for berries, this has gorgeous fall foliage.
Ceratostigma plumbaginoides (Dwarf Plumbago) blue flowers over red-tinged foliage.
Cercidiphyllum japonicum (Katsura Tree) a favourite for its fragrance of burnt sugar as the leaves dry in late summer.
Clematis terniflora (Sweet Autumn Clematis)
Cotinus very colourful fall foliage after a summer of beauty as well.
Euphorbia 'Glacier Blue' has lovely creamy foliage year round.
Fothergilla two seasons of intense beauty, shade tolerant shrub.
Helenium (Sneezeweed) brilliant red and rusty flowers from August through September.
Miscanthus sinensis 'Morning Light' elegant silver foliage grass. Miscanthus 'Strictus' has brightly banded foliage for an exotic look.
Pennisetum 'Burgundy Bunny' and 'Piglet' grasses have great "bunny tail" blooms from fall through winter.
Passiflora caerulea (Passion Flower Vine) very complex flowers, a must-see!
Perovskia (Russian sage) striking, ghost like foliage.
Schizostylus happy little spreading clump, flowers well into early winter.
WINTER
Acer griseum (Paperbark Maple) cinnamon coloured bark peels all winter, good contrast with evergreen shrubs and conifers. This is truly a four-season tree.
Betula (Birch) both Heritage and Fox Valley colourful, peeling bark that shows well in winter.
Cornus alba 'Elegantissima' (Red twigged dogwood) variegated leaves in summer, bright red twiggy stems all winter.
Corylus 'Contorta' (Harry Lauder's Walking Stick) truly best in winter, with contorted and twisted bare stems wonderful in floral arrangements.
Cryptomeria interesting conifer with red-tinged soft foliage.
Epimedium surprisingly tough for such a delicate looking plant. Leaves take reddish hue in cold weather and make good cuttings at Christmas for arrangements.
Evergreen ferns Sword fern, Deer fern, Japanese tassel fern, and others add green to winter woodland.
Grasses left standing provide seeds for the birds as well as architectural interest in the landscape.
Grevillea 'Victoria's soft orange blooms attract hummingbirds in winter.
Hamamelis 'Jelena' (Witch Hazel) graceful shrub/tree for warm orange blooms in the darkest days of winter.
Hellebores blooms are unforgettable in winter, and they keep on flowering.
Mahonia 'Charity' and 'Winter Sun' taller shrub versions of Mahonia, tolerant of a variety of conditions, flowers in November.
Stewartia interesting branch structure when leafless.
Symphoricarpos 'Alba' (native snowberry) and 'Amethyst' purple berries.
By ensuring that there are a few outstanding plant varieties for each season, your garden will return your devotion and give you pleasure the whole year long.
https://russellnursery.com/wp-content/uploads/2014/01/Berberis.jpg
492
750
Kathryn Verlinden
https://russellnursery.com/wp-content/uploads/2022/04/russell-30th.svg
Kathryn Verlinden
2014-01-26 08:21:14
2020-12-31 04:10:33
Seasonal Stars in the Garden