Add A Touch Of Japan To Your Garden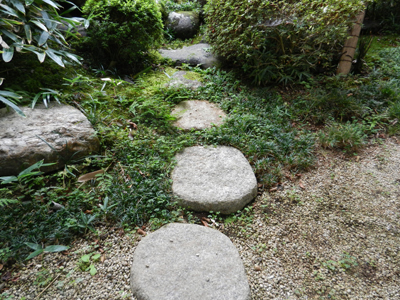 By Faye
I'm sitting in the Narita airport, having spent some time here in Tokyo visiting my son and his family. Before me sits my traditional parting meal at the airport: Onigiri, which are delicious balls of rice with assorted fillings, wrapped in Nori (seaweed). Beverage of choice is Asahi beer, just the thing to relax for the 9-hour flight home.
Last year at this time I wrote an article for our website called Japan through the eyes of a Canadian Gardener, which was my observations on gardens and the beauty of this land.
This time, I've been paying attention to the small details that seem to say 'Japan' in any language, any garden. A formal Japanese garden is not only very difficult to build; it's expensive and not practical in most settings in Canada. By incorporating just a few small details, your garden will have what I call a 'Japanesque' look.
One thing that is essential in any garden here seems to be some kind of bamboo screen or small fence. Bamboo fences have long been an obsession of mine, and I have a whole album of pictures in my computer. A few of the special ones are shown below.
There is an art to designing these fences, and they can be very intricate or quite simple. What I saw all over Tokyo, however, was a simple arrangement of vertical and horizontal bamboo poles tied together with black twine. The placement of the poles is up to you, depending on how the fence is to be used. I hope the photos speak to you of design, function, and aesthetic that will work in your own green space.
One question we often hear at the nursery is "How do I grow moss? I would like to give a Japanese flavour to my garden?" Well, I have looked all over Tokyo and moss is only seen growing on rocks, it's not a ground cover in our traditional sense. As it takes the Earth a long time to grow a mountain, it takes a while for a rock to grow moss. It can't be hurried.
There is, however, one ubiquitous covering of ground that is a very low growing grass-like plant. I saw this everywhere; in small sanctuary gardens in private yards, in public gardens, and in the garden of my friend Shoko-san in Hakone. Ophiopogon japonica 'Nana' appears to spread nicely into a tight mat, yet not be wildly aggressive, as it's quite slow growing. It's been a challenge to find a supplier for this, but finally we have it in stock, in 4" pots.
Rock is another essential, and this one is readily available here at home! One large boulder can set the tone for the whole garden, or a small area of river rock or pebbles planted with the right accent, can do the same. The Ophiopogon is often bordered by a hidden plastic, stone or wood barrier, then surrounded by an open area of small pebbles. There may or may not be further plantings of conifers, small shrubs, or one carefully placed tree. The key element is rock placement; it isn't taken lightly, with much thought going into how it can make a statement; nothing here looks cluttered.
Conifers seem to achieve the role of elder statesmen among the deciduous shrubs and trees. Often seen in pots, a small but aged conifer speaks of patience, tenacity, and endurance; qualities of life admired and practiced in Japan by its people.
The larger, older pines are often supported by more stakes than seems necessary, but protection of the elders is as important in horticulture as it is in society in this magical place.
Deciduous trees tend to be smaller-leafed varieties, eg Japanese maples (of course), Katsura, Beech, and the choice for public gardens everywhere, Ginko biloba. I was told on this visit that Ginko trees do not readily burn, so they were planted years ago in public places of refuge in case of fire or other disaster. They line routes of evacuation, and delineate 'safe' places eg embassies, parks, and schools.
While the ginko trees in Hiroshima did burn with the dropping of the atomic bomb, they survived and continue growing to this day.
I was surprised to see Pachysandra, one of our own stalwart ground covers that is deer resistant and tolerates dry shade, used in the woodland portion of my friend's garden. Small grasses such as Hakonechloa (Hakone Grass), Imperata 'Red Baron' (Japanese Blood Grass), and the grass-like perennial Liriope softened many plantings, along with many kinds of ferns. Also seen were Camellia, Rhododendron, Azalea, Acuba, Buxus, Enkianthus, Bamboo of course, and Japanese Maples of every hue.
Did I mention that it rains a lot in Japan? Arriving during the typhoon season this year, I had the opportunity to appreciate the Japanese respect for the power of water, and noticed that drainage is given its due. On any hillside is a visible concrete trench beside the pathway, done attractively, of course. Rocks are embedded into the hill to form a trail and right beside that, the water runs freely as if to say, "give me a place to go, and I won't bother you."
Even the sewer grates on downtown sidewalks are attractive. Note the ginko leaves molded into this one:
It's not necessary to 'Japanize' your whole garden, but a small sanctuary of this peaceful style will give you respite in your busy day. A rock, some pebbles, a bamboo fence and simple plantings of some of these garden treasures will offer a touch of Japan to your own landscape.
https://russellnursery.com/wp-content/uploads/2014/06/Ophiopogon-and-rock-with-p.jpg
300
400
Kathryn Verlinden
https://russellnursery.com/wp-content/uploads/2022/04/russell-30th.svg
Kathryn Verlinden
2014-06-04 13:09:56
2020-12-31 03:37:25
Add A Touch Of Japan To Your Garden