Container Gardening with Succulents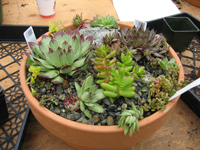 by Faye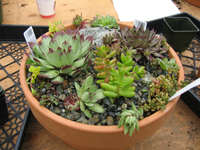 SOIL RECIPE FOR SUCCULENT CONTAINERS
4 parts sterilized potting soil (not peat-based soilless blend)
1 part coarse sand (available at Trio, Gravel Mart, Peninsula Landscape Supply, etc)
1 part Vermiculite (available in small bags at the nursery.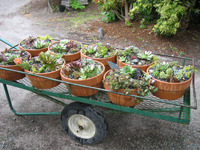 HARDY SUCCULENTS (best selection available at the nursery from April onwards)
SEMPERVIVUMS
These are the familiar, rosette forming "hens and chicks", very easy to propagate using the chicks as starts for new plants. Just a few of the many varieties available:
Sempervivum arachnoideum; with a spidery web covering the rosette,
S. calcareum; green with red tips 'Sir William Lawrence' especially attractive,
S. marmoreum; rich, mahogany red leaves,
S. atroviolaceum; muted colour with soft metallic sheen.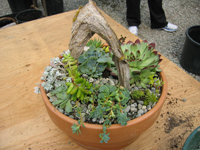 SEDUMS
These are usually more mat-like, excellent ground covers for containers and small garden areas, and easy to propagate using stem cuttings.
Sedum pachyclados; heavily toothed, closely packed rosettes on wandering green stems,
S. spathulifolium 'Cape Blanco'; grey to almost white carpet of textured small rosettes.
S. makinoi 'Ogon'; yellow foliage, tiny leaves but very easy to grow, forming a lovely cascading ground cover, very pretty in a blue pot. It tolerates shade well.
S. repestre 'Angelina' is a striking, lime green mass of shaggy foliage. It tends to be a bit robust in a pot, but is easy to cut back, and make new plants from the cuttings.
S. rubrotinctum; the "jelly bean" plant, one of the many good Stonecrop Sedums
SEDUMS FOR SHADE
Sedum sieboldii 'Mediovariegatum'; variegated leaves on stems up to 14",
S. spurium 'John Creech'; very tough, can even take dry shade under a conifer tree.
NON HARDY SUCCULENTS (available mid spring, throughout summer)
The Echeverias that grow here are usually pale blue/green rosettes, but sometimes we see the ruffled, larger leafed varieties, which are even more tender than the rosettes. I have sometimes kept rosette-type Echeverias outside during the winter, as long as they are very dry, and protected from the elements; usually tucked up against the warm house in a sheltered spot. For best results, a cool greenhouse, bright shed or garage is the safest place, as long as they are kept above freezing. Light is important.
FURTHER READING
Designing with Succulents – Debra Lee Baldwin
Hardy Succulents – Gwen Moore Kelaidis
The Jewel Box Garden – Thomas Hobbs
https://russellnursery.com/wp-content/uploads/2014/01/succ-pot-200px.jpg
150
200
Kathryn Verlinden
https://russellnursery.com/wp-content/uploads/2022/04/russell-30th.svg
Kathryn Verlinden
2014-01-25 17:37:29
2020-12-31 04:13:51
Container Gardening with Succulents